Full Review of Yougov Paid Surveys in India With Proof [ ₹10500 ] in 2022
Join YouGov
Today we will be discussing about whether YouGov is a legit survey site or not and how well does it perform in India?
Before moving ahead we should dig some information about how is the YouGov as a company?
YouGov, a legitimate and established, UK based Market Researcher and has is well known for its polls and and surveys. It's data is frequently used by most of news sites. 
How to Signup On YouGov
Signing Up on YouGov is easy and no membership fees is required
1. As most other Genuine survey sites YouGov offers a free and open registration. It barely takes a minute to become a YouGov member. Click on this link below & Start Your Registration
2.You need to enter your e-mail address and create a password for your YouGov account.
3. You will a receive a confirmation mail which will be your First survey from YouGov
4. Just make sure to complete the Profiler survey to start earning with YouGov as soon as possible. It will reward you with 50 points in your YouGov account
Here's the completion of your registration process now let's discuss how you can earn money with YouGov in India
Earning Opportunities From YouGov
1.

Surveys
As a YouGov panelist every time you participate in a survey you will receive points which you can redeem for great rewards.
Moreover New Users will get a

100 bonus points

as soon as you've joined and completed your

welcome surveys

.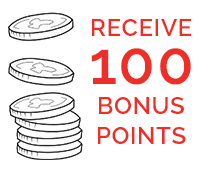 As soon as you complete your
two short welcome surveys
2. Refer And Earn
Refer a friend and gain 

200 bonus points 

! For every friend that joins the YouGov panel via your referral link and completes at least five surveys (excluding the initial welcome surveys), YouGov will credit your account with 200 bonus points!
3.YouGov Pulse
Yougov Pulse is a passive income opportunity from YouGov. You will get paid to share your smartphone usage with YouGov. You'll be rewarded with 

275 points 

monthly for enrolling in YouGov Pulse

Surveys
Surveys on Yougov are really high paying and I enjoy filling surveys on YouGov. The thing which I really like about YouGov is that they never disqualify you. It means once you are invited for a survey you will definitely get some rewards.
Refer and Earn
YouGov offers an massive 200 points when you have a successful referral. This amount is pretty high when you compare it with other Survey Sites. At the time of writing this post I have 20 successful referrals ,i.e,

4000 bonus 

points!




The YouGov app collects your smartphone usage pattern and rewards 275 points monthly, Furthermore if you keep the YouGov Pulse for 12 months you'll get 1300 points as bonus,i.e, 5000 points a year (₹3600/Year or ₹300/month). The points will get credited every moth to your YouGov Account. The app installs a VPN on your smartphone to track your usage. You can pause the tracking by clicking the pause button provided in the app.
Moreover it is not mandatory to run the Pulse VPN 24*7. You can run it an hour everyday and you will get the reward
Currently, the opportunity is not available for all users. Check your YouGov app for eligibility.
Rewards
YouGov uses points based system to reward its users. Once you have 5000 points it can be exchanged for₹ 3600 PayTM Cash or donate it to charity.
Payment Proof
At the time of redeeming your Points make sure you enter correct credentials as YouGov won't be responsible for any incorrect information entered by you.
Update : The next withdrawal of ₹3600 was pretty quick I had 5000 points in about 6 months. And currently I am earning around ₹350-400 with YouGov alone
Yougov took nearly 1 month to deliver the reward into my PayTM account
My Personal Incidents with YouGov
I had an wonderful journey on YouGov filling up surveys and getting those points into the account.
There will be ups and downs for sure with you too . You may get as many as 1 survey everyday or may not get any. Better have patience.
When I became a member at YouGov the Pulse Programme wasn't there in India therefore I missed out a great chance earning few more bucks for sure !
But you guys have the chance and go for it as the Pulse Programme is worth it
Update: YouGov finally sent me an invitation to YouGov Pulse. So I would recommend all of you to have some patience as if you get YouGov Pulse you can earn without doing anything
What We Like
✔️High Paying Surveys
✔️No Screenouts
✔️High Refer & Earn Bonus
✔️Genuine International Brand
✔️Passive earning with YouGov Pulse
What We Don't like
❌High Threshold Amount
❌Only PayTM and Charity Donations Available for Indian Users
❌Survey Frequency is Less compared to others
Final Words
YouGov is an International Market Research company. It offers us to earn money and is verified as a legitimate survey site and one of the best choices for users to earn money money in India. To maximise your earnings refer your friends, accept your YouGov Pulse invitation and last but not the least answer the quality check questions smartly!
☑️YouGov is a legitimate site for earning money
yougov india earn money yougov survey yougov 5000 points yougov india glassdoor yougov salary india yougov payment proof yougov login yougov india review yougov earn money yougov india app yougov survey yougov survey india list yougov login yougov paytm yougov payment proofyougov india yougov survey yougov india earn money yougov india review yougov login yougov earn money yougov paytm yougov sign-up
ID: Wait for 40s